"Life is already a riveting story. Sometimes all that remains is to find the right narrator."
– Propheta Flens
Scroll down to see Gordon's latest releases…

Click here
for commonly asked questions about having the good Dr. Greenhill work on your project.
Check out Flight of the SkyCricket.  Dr. Greenhill's new youth fantasy fiction novel. Available at Amazon or wherever you buy your books. Also on audiobook at Audible, narrated by the author.

Check out 
The Disordered Image
. The most extensive image catalog of the English editions of C. S. Lewis' Books in the world, administered by Dr. Greenhill
.

Gordon's Latest Releases |
The Lord
Romano Guardini
Genre – Devotional Theology
Length – 26:13
Considered a masterpiece by Catholic scholars, Guardini's The Lord has remained in print for decades. In it, Guardini wishes to present a correct understanding of Jesus by writing about his life and person, with all the limitations which the subject necessarily imposes. Although Christ lived in a specific historical milieu, and though knowledge of the forces at work in it furthers an understanding of him, Guardini states that a biography of Christ is practicable only within the narrowest confines. Neither Jesus' personality nor his works are immediately traceable to the conditions of the times, for he came "out of the fullness of time" contained in the mystery of God, and it was to this mystery that he returned after he had moved among us. Pope Benedict XVI wrote of it: "The Lord has not grown old, precisely because it still leads us to that which is essential, to that which is truly real, Jesus Christ Himself. That is why today this book still has a great mission."
The Prince of Darkness
Radical Evil and the Power of Good in History
Jeffrey Burton Russell
Genre – Historical Survey
Length – 11:01
After a compelling essay on the nature of evil, Russell uncovers the origins of the concept of the Devil in various early cultures and then traces its evolution in Western thought from the time of the ancient Hebrews through the first centuries of the Christian era. Next he turns to the medieval view of the Devil, focusing on images found in folklore, scholastic thought, art, literature, mysticism, and witchcraft. Finally, he follows the Devil into our own era, where he draws on examples from theology, philosophy, art, literature, and popular culture to describe the great changes in this traditional notion of evil brought about by the intellectual and cultural developments of modern times.
A Voyage to Arcturus
David Lindsay
Genre – Science Fiction, Fantasy, Philosophy
Length – 9:50
A stunning achievement in speculative fiction, which critic Colin Wilson called the "greatest novel of the 20th century". A Voyage to Arcturus has inspired, enchanted, and unsettled audiences for decades. It is simultaneously an epic quest across one of the most unusual and brilliantly depicted alien worlds ever conceived, a profoundly moving journey of discovery into the metaphysical heart of the universe, and a shockingly intimate excursion into what makes us human and unique. Influential on such fantasy notables as C. S. Lewis and Philip Pullman, A Voyage to Arcturus was the first novel by writer David Lindsay (1878–1945), and it remains one of the most revered cornerstones of science fiction.
Dymer
C. S. Lewis (Clive Hamilton)
Genre – Epic Poetry, Fantasy
Length – 2:23
Dymer is a narrative epic poem by C. S. Lewis. He worked on it, his most important poem, as early as 1916 – when still only 17 years old – and completed it in 1925. Dymer was his second published work after Spirits in Bondage. It was published by J. M. Dent in 1926 under the pseudonym Clive Hamilton (the writer's actual first name followed by his mother's maiden name). Dymer follows the adventures of its titular protagonist from his birth in a totalitarian state, mockingly referred to as "The Perfect City", to the events leading to his death at the hands of a monster of his own begetting.
The Ten Lost Tribes
The History and Mystery of the Lost Tribes of Israel
Charles River Editors
Genre – Historical Survey
Length – 1:23
A short historical survey of the question what happened to the 10 Northern tribes of Israel after they were deported by the Assyrians. Reviews the theories, facts, legends, and spurious claims about their location in the Diaspora. Semi-academic but very listenable. For anyone interested in Jewish or Biblical history.
(Hear a sample on audio samples page)
Spirits in Bondage
C. S. Lewis
Genre – Poetry, Religion, Atheism
Length – 1:26
Published under the pseudonym, Clive Hamilton, Spirits in Bondage was C. S. Lewis' first book. Released in 1919 by Heinemann, it is now in the public domain in the United States. It is significant primarily as a window into the pre-Christian mind of the man who would later pen such classics as The Screwtape Letters, Mere Christianity, and the Chronicles of Narnia. This collection of poetry shows that as a man of twenty, Lewis was already possessed of a keen modern intellect and a vivid romantic imagination. Now for the first time in audiobook form and with a brand new preface by, Lewis scholar, Dr. Gordon Greenhill. Available as audiobook and ebook (with original illustrations by Leah Morrison).
The Spiritual Combat
Including the Supplement and the Path of Paradise
Dom Lorenzo Scupoli
Genre – Theology, Spirituality, Holiness
Length – 6:38
The Spiritual Combat is considered one of the two greatest ascetic classics, the other being The Imitation of Christ. The authors of both are shrouded in mystery. There are many 17th-century editions which have the name Spanish Benedictine, John of Castanzia. Some Jesuit writers have ascribed the book to the Jesuit Achilles Gagliardi. However, most critics consider Fr. Lawrence Scupoli the author. The aim of the work is to lead the soul to the height of spiritual perfection by constant struggle against our evil nature, which wants to keep us away from that end.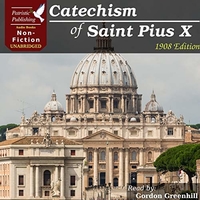 The Catechism of St. Pius X
The Roman Catholic Church
Genre – Theology, Soteriology
Length – 5:07
Pope Pius X's catechism is a rather short book in which he provides a Roman Catholic understanding of the Christian faith with a question and answer format. The book was issued in 1908, and was reaffirmed by Ratzinger in 2002. The book has three parts dealing with faith, the Ten Commandments, and grace. It also lists the most important prayers for Catholics.
The Wraith of Skrellman
Mike Sauve
Genre – Fiction (Adult Content & Language)
Length – 7:44
Set against the pomposity of a small-town theatre community, The Wraith of Skrellman is the story of a nearly-delusional, completely-homeless 46-year-old troubadour's ill-fated pursuit of a beautiful teenage actress, the resentment this breeds in her precocious classmate Dave String, and the wraith of Skrellman who haunts them all with his "pornographic play-by-play" and frequent acts of occult mischief.
Elegiac at times, downright smutty at others, it's like The Virgin Suicides if that book were a little less a masterpiece and a whole lot more teen sex romp. Beneath the populist slapstick exists a literary ode to lost youth, and a mordant satire of the social conservatism of small towns
I Ain't Got No Home In This World Anymore
Mike Sauve
Genre – Fiction (Adult Content & Language)
Length – 5:22
Back in the fictional Northern Ontario city of Lac-Sainte-Catherine, Mike Sauve takes listeners on a round-and-back adventure in the classic tradition of H.G. Wells, where two bumbling time travelers take a sad look at their past(s), their McDonald's issues and blackout binges, and their sentimental pratfalls and romantic flagellations, all to try and find their way home again.
In the third nonlinear installment of his L-S-C universe, first with a wraith, then with a plague, and now through time, the author again applies his slapstick sensibilities to the indignities of a small town upbringing, asserting that while our hometowns may have been good places to come from, they remain tricky places to return to – contemptuously, wistfully, or in this case, temporally.