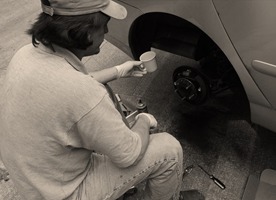 Gordon Greenhill loves audiobooks!
He listens to several dozen a year as he drives his tots around the town in his sometimes-working car. He adores the sound of a good story told aloud and has built his life around the spoken word, earning his bread with his voice in one way or another for over 20 years.
Below you will find a diverse collection of his work from fiction to nonfiction, from pulp to scholarly – even some of his own prose. Whether you're looking for a particular accent, straight story telling, inspiring non-fiction, or dusty commentary, you'll find him a reader sensitive to flow, rhythm, and syntax.
Short on time? Want it all in one? Click here for a 7.5 minute sample of several of the titles below.
Audio Samples by Dr. Greenhill
Source – ​Supernatural by Michael S. Heizer. Available through Amazon & Audible.
Genre – NonFiction, Christian/Jewish Studies
Note: Begins in the middle of a reading from Psalm 22 describing the crucifixion and then comments on it.
Source – Greyson Gray: Camp Legend by B. C. Tweedt. Available through Amazon & Audible.
Genre – Youth Thriller
Source – ​The POTUS Papers by Bryan Mooney. Available through Amazon & Audible.
Genre – Political Thriller
Source – Coffin Light​ by Douglas K. Pearson. Produced by Sozo Media. Available through Amazon & Audible.
Genre – Fiction
Source – The Black Centaur by Gordon Greenhill
Genre – Youth Fantasy Fiction
Source – ​The Ten Lost Tribes: The History and Mystery of the Lost Tribes of Israel by Charles River Editors
Genre – Nonfiction, Historical Survey
Source – ​Lifeology
Genre – 1.5 minute Radio Spot
Sample Features – Featuring conversational radio essayist style.
Notes – Two samples of a religious radio spot that I wrote and produced and which aired on several West Michigan radio stations for a few years.