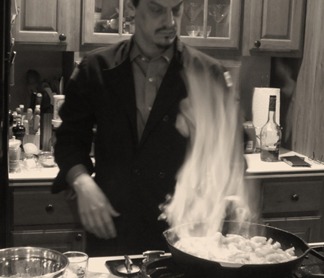 I'm the rights holder of a book that I want made into an "audie." What's the process?
Different projects need a different touch, but a good start would be to check out
ACX.com
. You can post your project profile there, then let Gordon audition for it. If you agree to hire him, then Amazon/Audible takes care of the fine print to get it saleable. Simple. (If you want him to audition, however, it would be good to
send him a note
telling him your project is out there, or he may not find it.)
Does Dr. Greenhill do voice over or other kinds of voice work?
Yes, absolutely. Do you have a documentary you need narrated or a commercial you want voiced over?
Drop him a line
.
How much does he charge?
While a royalty share may work for some projects, generally voice artists work for a "per finished hour" (pfh) rate, that is, the total length of the finished product. While his rates are negotiable based on the nature of the project, an 8 hour audio book (think Harry Potter & the Sorcerer's Stone), would be about two grand. Not bad! 
What's his set up?
He works in his padded veal box on a Harlen Hogan VO-1a, running Protools in Windows 10.
Where is he located?
The good doctor lives in the winter wonderland of Michigan, but thanks to the magic of the internet, he can work for you no matter where you are.
Is that really him cooking?
Yes, it is! Loves to cook! Let him narrate your NYT best seller, and he'll make you his balsamic reduction BBQ ribs or his guava-glazed pork tenderloin with cilantro salsa. Oh, oh, no… his from scratch tiramisu!